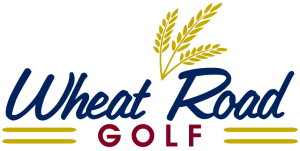 This summer, we were approached to create a new identity for a small golf business in Vineland, NJ.  Wheat Road Golf started out as a driving range and expanded it's operation to include an 18 hole Executive Course and one of the finest Pro shops in the area.
From a design standpoint, we wanted to focus on the name of the business.  A slick, corporate-style brand identity with a golf ball, tee, club, crest, etc. seemed a little stereotypical and not ideal for Wheat Road Golf.  Instead, we chose to reflect the small-town feel and natural surrounding of Wheat Road Golf.
The color scheme was requested by the client and needed to be adaptable for their soon-to-come website, print materials and TV commercial.
The script style font and wheat graphic was the favorite among the numerous concepts presented.  In particular, the client really liked the simplicity of the design and felt it would be a great transition from it's stodgy shield/crest style logo.  The client requested specific colors in the logo, too.
Having been a customer of Wheat Road Golf in the past, this was a really cool project to work on.  If you're looking for golf equipment, instruction or just want to get out and hit a few, check out Wheat Road Golf in Vineland, NJ.