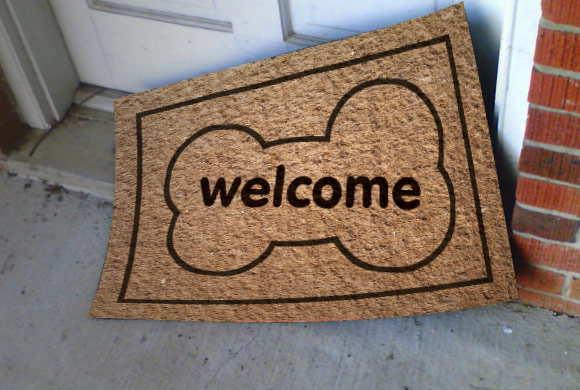 Welcome to our new site! We've been working on this site for a few months and look forward to utilizing it as an interactive platform.  It's still a work in progress and some fine tuning is needed.
Some of the new things you might notice:

An updated logo – As much as I enjoyed creating the first look for creative bone, it felt rushed and complicated.  So, I went back to the doghouse and created a new look.  I particularly like the bone shape that was retained from the old logo and am thrilled with the new typeface.  The rounded letters and compound title are progressive and strong.  I think our identity is clear.  We kept another part of the old logo on the site, too.  Can you find it?
New header – We've got a couple of tough guys at the top of our page, representing the ongoing competition between small businesses.  That's why we're here.  If you've got a bone to pick, we can help you find a solution.
Services – To provide easier access to content, we chose to list some of our more popular services on the Homepage.  Complete descriptions for all services are still available (see the nav-bar at the top of the page) on the Print and Web pages.
Portfolio – We have plenty of great clients and projects to bark about.  We've decided to showcase a few of them on the Homepage.  This area will change from time to time.  Would you like to be featured there?  That's easily done…Hire us!
Blog – I saved the best part for last.  I've been eager to share thoughts, ideas and trends for a while.  Most of the time, I'm sending e-mails to a short list of logo fans or friends who know my quirky interests.  But now…Creative Bone has a blog!  Joe and I, and perhaps a few special guests will provide creative opinion, commentary,  aggravation, delight and other thoughts on a variety of topics.  While the intent is to showcase creative trends and good work, you may find a few posts related to food, sports, video games and other topics that interest us.
Please feel free to dig around the site and let us know what you like and don't like.
You can also find us on Facebook.  Become a fan!

-Geoff